Stonecare would like to introduce the process of polishing natural stone floor for your beautiful house.
The steps below will make the shine for your natural stone floor. Always test in a small, inconspicuous area to determine ease of application and desired results.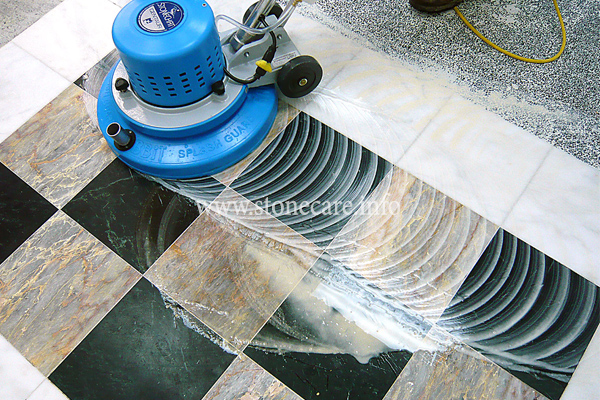 Directions:
1. Cleaning the surface:
- Using soft clothes or vacuum to clean the dirt on the stone surface.
- Masking off and protect any baseboards or adjacent areas to avoid splashing and overspray onto surfaces not intended to be treated.
2. Making surface smooth:
- Ensuring surface is flat and smooth. Deep scratches or strong acid etching may require refinishing with Honing Powder and/or Polishing Powder prior to using Shining Powder.
- Using floor machine to make surface smooth
3. Polishing by specific chemicals:
- Using polishing machine with pad for the best result
- Chemicals for Marble: A1 Grey, A1 White, A3 Yellow…
- For Granite: K300, K400, K500, Starshine…
- Refinish area until desired level of desired shine is achieved.
4. Re – clean surface:
- Re – clean by Neugel/Algafloor
- Rinse well and use wet vacuum or hot water extraction unit to remove all remaining Shining Powder.
- Clean equipment with water.