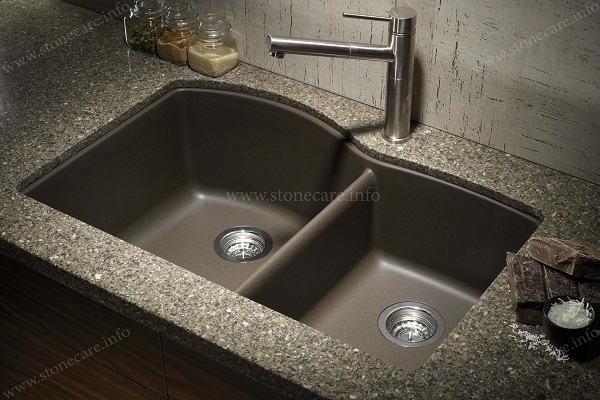 Granite composite sinks offer durability and that classic look that gives your kitchen or bath a warm, welcoming feeling. If not properly cared for, however, your sink will begin to look discolored, dull, and hazy.
Keep your granite composite sinks looking like new with these tips for how to clean a granite sink properly.
About composite sinks
Granite composite sinks are made from real granite combined with resin fillers. They have porous surfaces that can absorb liquids and impurities if not properly cared for. Eventually stains or a white film will develop making your granite sink look dirty no matter how much you scrub it.
Cleaning granite sinks with acidic or abrasive household cleaners will simply exacerbate the problem; etching the surface and leaving it blurry and damaged. Avoid cleaning granite with products that contain bleach, ammonia, vinegar, or citrus. Instead, choose specially formulated granite cleaners that are better for your stone and eco-friendly, too.
How to clean a granite sink
The best way to maintain your granite composite sink is with frequent, regular cleanings. To avoid the haze, water spots, stains and discoloration, wipe out your granite sink after each use.
Then, at least once per day use a pH neutral cleaner for granite such as Neutral Cleaner, Neugel. Simply spray it on and buff your sink to a lustrous finish. Use soft cloth to wipe.